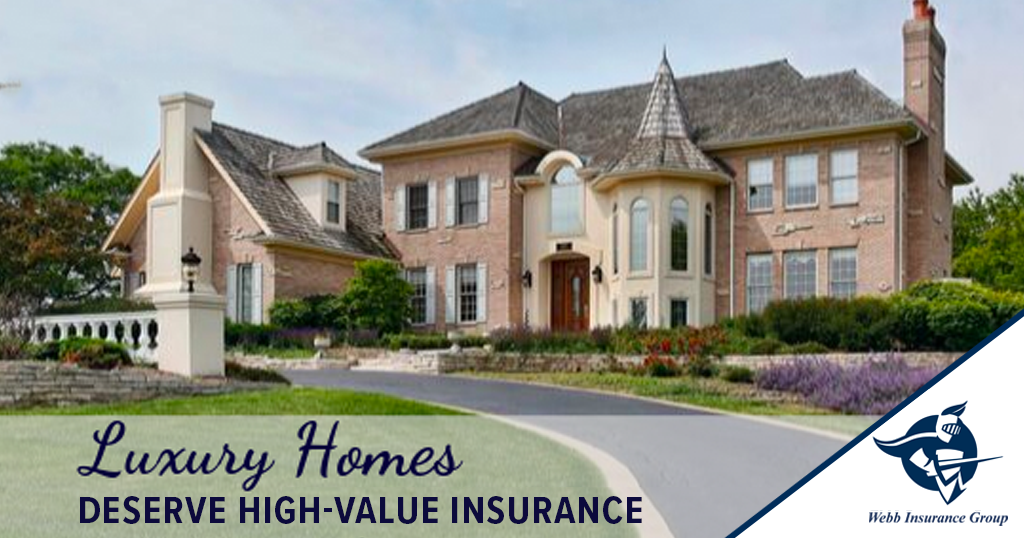 When considering a luxury home complete with unique, extraordinary features, a cookie-cutter insurance policy will not suffice.  To meet the demands of this type of home, and homeowner, a high-value insurance policy is often the best choice, providing customized options not typically available in standard policies.
When You Should Consider High-Value Home Insurance
When considering your options for home insurance, there are certain factors that might indicate that a high-value insurance policy would be the right choice.  For example:
The home is worth at least $750,000
An architect designed the home or it has unique design elements
There are special items within the home, such as valuable fine art, collections, rugs, wine or jewelry
The decor in the home comes from specialty boutiques, rather than standard stores
The property contains special features such as a guest house, outdoor living areas, pool area or special landscaping
Advantages of High-Value Insurance
A high-value insurance policy offers several advantages over a standard policy that often better satisfy the demands of a luxury homeowner when a claim needs to be filed.
Expanded Coverage and Higher Policy Limits – a high-value insurance policy offers expanded coverage for the actual property as well as the items contained within. This is especially useful for items like jewelry, art or cash.  Other unique coverage might include guaranteed replacement cost, which would pay the full cost to repair or replace the home, even if it exceeds the policy limits, as well as coverage for additional living expenses while your home is being repaired.
Extra Expertise and a Higher Level of Service – when you have a high-value insurance policy, the level of care you receive in the event of a claim tends to be of a higher level from the insurer. They are generally more experienced with high-value homes and furnishings and will typically go above and beyond to assist in replacing your items or helping to make arrangements if the house is uninhabitable.
Additional Benefits and Services
At Webb Insurance, we work with many insurance carriers that offer unique special services and benefits with their high-value insurance policies.  These benefits could include identity fraud or cyber ransom coverage, risk consulting or onsite home inspections, loss prevention benefits that help prevent a recurrence of a covered loss, the option to waive your deductible in the event of a large-scale loss, or even the option to take a cash settlement instead of rebuilding the house.
Your Webb Insurance advisor will work with you to determine which services are most important to you and will develop a specialized policy to meet your individual needs.  Contact us at 847-235-6001 or chriswebb@insurancebywebb.com  to put our experience and personalized service to work and create the best protection for your luxury home and lifestyle.
For additional information or to ask a specific question, complete the information below and we will contact you soon:
Additional information can be referenced here